WE ARE YOUR PARTNER FOR THE IMPLEMENTATION OF INFORMATION SYSTEMS IN PRODUCTION
We bring proposals in the area of development and realization of production information systems in real time. We focus on automating production processes, how to improve and streamline them.
Bonatrans Group
Extending the functionality of MES delivered by us - tracking the production of railway gears

Dynamic Automation
System of robotised crates handling system, localisation part


AGF Flat Glass Czech
Modification of Supervision surveillance system - traceability


ArcelorMittal TP, Karviná
System for monitoring and identification of production of small profiles, modification for new SAP
ArcelorMittal TP, Ostrava
Feasibility study: Replacing the existing MES solution


ArcelorMittal TP, Kraków
Feasibility study: Monitoring and identification of small profile production

Siemens, s.r.o.
Visualisation of the technology of packaging, polishing and product transportation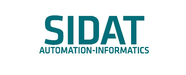 SIDAT
Visualisation of equipment process and its cooling. Tests of technology, communications, recipes.

SAKER
Implementation of complete MES in recycling and production of aluminum alloys including feasibility study